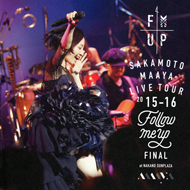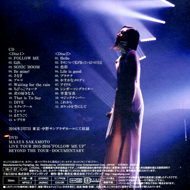 format: CD album, 2 disc set
label: Victor
disc#: VTZL-121 (CD+DVD) | VTCL-60431~2 (CD)
price: 4000 yen (CD+DVD) | 3300 yen (CD)
release date: 2016-07-27
track times: 1:15:56 | 1:00:19
Larger images: [ jacket: front ] [ CD case: back ]
Limited edition extras: [ limited edition box front ] [ Photo book cover ]
| # | Disc 1 :: Track title | Comments | Lyrics |
| --- | --- | --- |
| 1 | FOLLOW ME | |
| 2 | Gift | |
| 3 | SONIC BOOM | translation / .rtf |
| 4 | Be mine! | |
| 5 | さなぎ | Sanagi | |
| 6 | アルコ | |
| 7 | Waiting for the rain | |
| 8 | ちびっこフォーク | Chibikko Folk | |
| 9 | 君の好きな人 | Kimi no sukina hito | |
| 10 | That is To Say | |
| 11 | DIVE | |
| 12 | セクレアール | SEKUREAARU | (instrumental) |
| 13 | Tシャツ | T-shirt | |
| 14 | まだうごく | Mada ugoku | |
| 15 | レプリカ | REPLICA | |
| # | Disc 2 :: Track title | Comments | Lyrics |
| --- | --- | --- |
| 1 | Hello | |
| 2 | 幸せについて私が知っている5つの方法 | Shiawase ni tsuite watashi ga shitteiru itsutsu no houhou | |
| 3 | 色彩 | Shikisai | |
| 4 | Life is good | |
| 5 | プラチナ | Platinum | |
| 6 | かすかなメロディ | Kasukana Melody | |
| 7 | アイリス | Iris | |
| 8 | シンガーソングライター | Singer-Songwriter | |
| 9 | 卒業写真 | Sotsugyou shashin | |
| 10 | マジックナンバー | Magic Number | |
| 11 | これから | Kore kara | |
| 12 | ポケットを空にして | Pocket wo kara ni shite | |
Review
I am generally hesitant about live albums, but they may be growing on me. I used to love that studio albums are very carefully mixed to perfection, but in the Autotune era, perfect pitch is so universal that the human element of a live performance is more intimate. Such is the case with Maaya SAKAMOTO's second live album, "Follow me up" Final at Nakano Sun Plaza. This is Maaya's most comprehensive live album to date, with 27 full tracks recorded on the final stop of her 2015-2016 tour on February 7, 2016, released on 2 CDs. This album comes in two flavors: a regular edition with the 2 CDs, and a limited edition which includes a DVD with a mini documentary and behind-the-scenes clips from the tour, plus a mini photo book with more pictures from the tour.
Drawing mostly from Maaya's most recent studio album Follow Me Up with 13 of that album's 15 tracks represented, this collection also includes songs reflecting various stages of her career, from early works like "Pocket wo kara ni shite" and "Platinum" to her more recent and self-written "Magic Number" and "Singer-songwriter." Fans old and new alike will find something to like about this release. Longtime fans like myself, who started listening to Maaya twenty years ago, might appreciate her recent material more in the live version, which sometimes sounds over-mixed and bland on her studio albums.
Maaya's technical singing skills are evident on upbeat songs such as "Be mine!", "Sanagi," "Shikisai," and "Shiawase ni tsuite watashi ga shitteiru 5-tsu no houhou." Her increasing comfort and expressiveness with crowds are demonstrated in enthusiastic songs like "Life is good" and "Magic Number." She continues to nail sensitive ballads and slow-tempo fare including "Kimi no sukina hito," "That is To Say," "Chibikko Folk," "Kasukana Melody" and "Kore kara." Of note, "Sotsugyou shashin" is a slowed-down, ballad-style cover of a Yumi MATSUTOYA song and "SEKUREAARU" is actually a medley of piano music, rather than the vocal music that was released as a digital single for the online game Monster Hunter: Frontier G.
Overall, the variety and high quality of songs in this live collection are worth the price for any Maaya fan. While also a solid introduction for those unfamiliar with her songs, Maaya's straightforward singing may take a little longer to grow on recent listeners. This live album notably does not include her break-out hit "Triangler", for instance, nor the four singles that she released between 2010 to 2013.
Favorite tracks: "SONIC BOOM", "Kore kara", "Hello", "T-shirt", "Sotsugyou shashin", "Shiawase ni tsuite watashi ga shitteiru 5-tsu no houhou"
MC G-rating: 9/10
MC L-rating: 10/10
Fan factor: 10/10
Shop: where to buy
Limited Edition (2CD + DVD):
Buy CD album at CD Japan
Buy CD album at Amazon Japan
Buy mp3 tracks at Flying Dog (Victor Entertainment) Page
Regular Edition (2CD):
Buy CD album at CD Japan
Buy CD album at Amazon Japan
Buy mp3 tracks at Flying Dog (Victor Entertainment) Page
2 Comments to Sakamoto Maaya – Live Tour 2015-2016 "Follow me up" Final at Nakano Sun Plaza [CD album data + review]
Leave a Reply