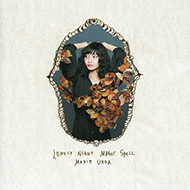 artist: 植田真理恵 Ueda Marie
title: 夢のパレード Yume no Parade | Parade of Dreams
discs: Yume no Parade (single)
Lonely Night Magic Spell (album)
lyrics, music:植田真理恵 Ueda Marie
arrangement:徳永暁人 Tokunaga Akihito
Romanization
fushigi ga ippai tsumatta yume no PAREEDO
ato nannen ga tateba honmono mireru no
sentan kara tobidasu shikake no omocha
ryoute nigirishimete hashitteru
mitsukari kkonai mitsukatte mitsukete
mitsukareba kotoba mo naku sono mama de
aa
yume no PAREEDO / toki ga tattemo
aoi sora wo / furidasu ame ni
imi wa nai yo / nanimo nai yo
kore wa itsumo / soba ni aru koto
sunao na henji dekitara fuyaketa egao
ato nankai chikaeba honmono ni naru no
reizouko de matteru asu no gohoubi wo
ima wa wasureta furi de yari sugoshiteru
kizukarekkonai kizutsuite kizukatte
kizuitara onaji itami de me ga sameru
aa
atarashii koto / ashita no koto
moshomo no koto / atashi no koto
anata no koto / anata no me wo
mirai no koto / mienai koto
nanimo nai yo / nanimo iwanaide yo
nanimo ienai yo
yume no PAREEDO
toki ga tattemo
aoi sora wo
furidasu ame ni
imi wa nai yo / nanimo nai yo
kore wa itsumo / soko ni itsumo / soba ni aru koto
English translation
The parade of dreams packed with wonders
After some years pass will I be able to see something real?
Leaping from the ledge with the contraption [1]
grasped tightly in both hands, I am running
That which cannot be found is discovered I seek it out
When I do find it, wordlessly Keeping it that way [2]
Ah
The parade of dreams / though time passes
The blue sky / Turns to falling rain
It means nothing / It's nothing
This is always / There with me
After responding seriously the grin breaks out [3]
After how many times of vowing it does it become true?
The reward in the refrigerator that I'm saving for tomorrow
I go about today acting like I've forgotten about it
Not noticing it Getting hurt Worrying
When I notice, I open my eyes to the same pain
Ahh
About something new / About tomorrow
About possibilities / About me
About you / Your eyes
About the future / I can't see it
It's nothing / Don't say anything
I can't say anything
The parade of dreams
Though time passes
The blue sky
Turns to falling rain
It means nothing / It's nothing
This is always / Always there / Next to me
Japanese
ふしぎがいっぱいつまった夢のパレード
あと何年が経てば 本もの見れるの
先端から飛び出す仕掛けのおもちゃ
両手にぎりしめて走ってる
見つかりっこない 見つかって 見つけて
見つかれば言葉もなく そのままで
ああ
夢のパレード / 時が経っても
青い空を / 降りだす雨に
意味はないよ / なにもないよ
これはいつも / そばにあること
すなおな返事できたらふやけた笑顔
あと何回誓えばほんものになるの
冷蔵庫で待ってるあすのごほうびを
今は忘れたふりでやりすごしてる
気づかれっこない 傷ついて 気遣って
気づいたら同じ痛みで目が覚める
ああ
あたらしい事 / あしたの事
もしものこと / あたしの事
あなたのこと / あなたの目を
未来のこと / みえないこと
なにもないよ / なにも言わないでよ
なにも言えないよ
夢のパレード
時が経っても
青い空を
降りだす雨に
意味はないよ / なにもないよ
これはいつも / そこにいつも / そばにあること
Preview "Yume no Parade" music video (short version) on Ueda Marie's YouTube channel:

=======
[1] 仕掛けのおもちゃ shikake no omocha: more literally, "the contrived toy." This conjures up the image of an improvised flying machine.
[2] 見つかりっこない 見つかって 見つけて / 見つかれば言葉もなく そのままで mitsukari kkonai mitsukatte mitsukete / mitsukareba kotoba mo naku sono mama de: a phrase with a lot of alliteration and play on words. "Mitsukarikkonai" is something that can't be found.
見つかれば言葉もなく そのままで mitsukareba kotoba mo naku sono mama de. The meaning of this line is unclear to me. The first part is literally, "If/when I find [that which cannot be found], without any words." "Sono mama" means "in the state [that it is already in]", suggesting that she is leaving what she found alone, perhaps keeping it a secret without breaking the silence/letting it know it was found/speaking about it.
[3] すなおな返事できたらふやけた笑顔 sunao na henji dekitara fuyaketa egao: suggests the image of a mischievous person who, after answering a question in a serious manner, breaks out with an impish smile.
Leave a Reply