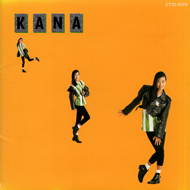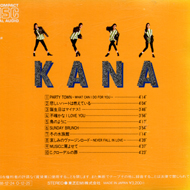 format: CD album
label: Toshiba EMI
disc#: CT32-5076
price: n/a
release date: 1988-12-24
track time: 0:39:14
Larger images: [ jacket: front ] [ CD case: back ]
| # | Track title | Comments | Lyrics |
| --- | --- | --- |
| 1 | PARTY TOWN -WHAT CAN I DO FOR YOU- | |
| 2 | 悲しいハートは燃えている | Kanashii Heart wa Moeteiru | |
| 3 | 誕生日はマイナス1 | Tanjoubi wa Minus 1 | |
| 4 | 不確かな I LOVE YOU | Futashika na I LOVE YOU | |
| 5 | 鳥のように | Tori no you ni | |
| 6 | SUNDAY BRUNCH | |
| 7 | 冬の水族館 | Fuyu no Suizokukan | |
| 8 | 哀しみのヴァージンロード -NEVER FALL IN LOVE- | Kanashimi no Virgin Road | translation / .rtf |
| 9 | MUSIC に肩よせて | MUSIC ni kata yosete | |
| 10 | C.クローデルの罪 | C. Claudel no tsumi | |
Review
Wada Kanako is surely one of the most underrated singers of the 1980's. Best known for songs used in the Kimagure Orange Road animation series, Kanako could sing soft ballads and soulful numbers alike with her mature yet sweet voice–and demonstrated this in the eponymous KANA, her third original album (second in digital CD format). This excellent collection of ten songs is full of energy and groove, with some forays into Kanako's softer side. Though the disc runs by briskly at 39 minutes, each track stands out on its own. The melodies range from moderately to very catchy; there are no boring or forgettable songs here.
KANA opens with a mid-tempo 80's dance beat backing the groovy "PARTY TOWN~WHAT CAN I DO FOR YOU~," then goes on to the upbeat, passionate "Kanashii Heart wa Moeteiru," probably the most famous track on the album–the ending theme to Kimagure Orange Road which was released as a single in 1987. Fans of the anime series may be delighted to know that this album contains other songs associated with the series, including the ballads "Futashika na I LOVE YOU," a mid-tempo, grooving track, and "Tori no you ni," a slow-paced number.
"Tanjoubi wa Minus 1" and "SUNDAY BRUNCH" reprise the groove of the opening track, with similar backing track beats while managing to distinguish themselves as separate songs. Toward the second half, the album slows down its pace with more serious fare. "Fuyu no Suizokukan," the shortest song, clocking in at 1:15, is almost hymn-like as Kanako sings with a solemn, classical style. "Kanashimi no Virgin Road -NEVER FALL IN LOVE-" is a dramatic ballad duet with Nakazaki Hideya, matching achingly beautiful harmonies. KANA rounds out the finish with "MUSIC ni kata yosete," an optimistic slow-tempo track, and "C. Claudel no tsumi," a catchy ballad.
Favorite tracks: "Kanashimi no Virgin Road -NEVER FALL IN LOVE-", "Kanashii Heart wa Moeteiru", "Futashika na I LOVE YOU", "SUNDAY BRUNCH"
MC G rating: 8/10
MC L rating: 9/10
Fan factor: 8.5/10
Shop: where to buy
Amazon Japan – KANA (Digital album, mp3 format)
Amazon Japan – KANA (CD album)
Leave a Reply