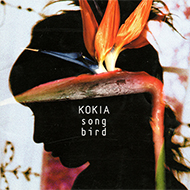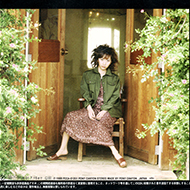 format: CD album
label: Pony Canyon
disc#: PCCA-01351
price: 2913 yen
release date: 1999-07-16
track time: 0:48:17
Larger images: [ jacket: front ] [ CD case: back ]
Review
Sweet strength with a whisper
KOKIA's first album is a timeless journey of piano and vocal wonder. Her singing is straightforward and unembellished in this album, casting her charm through simplicity and thoughtful lyrics. She can sing like a powerhouse, which she demonstrates in later albums, but she doesn't need to do that here to show off her vocal talents. They are just evident in her voice control as she hides strength within the sound of childlike fragility. Each song stands on its own, the sparse instrumentals consisting mostly of keyboard arpeggios with a minimum of percussion providing just enough of a framework for KOKIA's beautiful voice to shine.
Those who need faster tempos and louder bass beats will be disappointed in the songs here. The rest of us can appreciate the solid craftsmanship in this deceptively simple collection of songs. Indeed, KOKIA wrote the lyrics and music to most of the songs, addressing topics ranging from the drowsy comfort of the afternoon to the yuckiness of having a cold.
The album begins by explaining its title. "Watashi wa uta kotori desu" starts out a capella and transitions to a piano in the background while KOKIA paints the metaphor of herself as a songbird. Following this self-introduction, "Soyokaze ga sougen wo naderu you ni" is a gentle song, featuring KOKIA with a keyboard and rhythm track. Near the end, it does get a little repetitive and even plodding. "I catch a cold" then lightens the mood with its whimsical take on its title subject–KOKIA even records a sneeze in it! "Shiroi yuki" is a pensive, eerie song that draws parallels between the transience of life and snowflakes, and a highlight of the album. "River" is an expansive reflection about life, expressed through running arpeggios, while "Hirusagari no toki" is a slower, calmly cheerful number.
"You" and "Aishiteiru kara" are the love songs of this album; the former has very sparse, music-box-like instrumentals while the latter is a heartfelt, melancholy ballad. This version of "Aishiteiru kara" differs slightly from the version that was released as KOKIA's first single. "You" is the coupling track from that single. "Live Alone" is similar to "River", with a more dramatic bridge; and "Erika" is a resolute, slow tempo song in major-key. The two songs sandwich "Arigatou…", a haunting, beautiful track released as KOKIA's fourth single.
Closing the album with "Aishiteiru kara" ends it on a brooding, more emotional note than the start. Overall, this emotional journey is well worth the short list of songs, and a must-have for fans of the artist's soft side.
Favorite tracks: "Arigatou…", "Aishiteiru kara", "Hirusagari no toki", "Shiroi yuki"
MC G-rating: 8/10
MC L-rating: 9/10
Fan factor: 9.5/10
Shop: where to buy
Amazon Japan — CD album
Amazon Japan — MP3 album (digital download)
Leave a Reply